You may think that in a typical architectural cost & complexity process our only focus is on architectural design along with whatever the ship contract specification says about architectural complexity. However, there are many other technical and special system items that have an impact on architectural design that must be taken into consideration in cost & complexity work as well.
These items are an essential part of a ship's design and functionality, typically taking contractual precedence over architectural complexity. Even though there are experts and people responsible for each of these systems at a shipyard, it is crucial for us to understand contracts, interdependencies, requirements, and schedule to facilitate a smooth process and achieve a good and coordinated design.
Architectural Design Phases
Typically, the ship buyer provides the architectural design and it is scheduled to be completed in phases; rough layout and concept to be completed first, followed by the final details and material specifications. Most of the ship's technical systems need to be considered and agreed in the early phase to provide enough time for the yard to prepare schemes and area arrangement drawings.
Ship Structure and Systems
The main item to be coordinated with architectural design is the ship's structural steel. In the early phase items such as bulkhead locations, raised decks, large openings, and pillar locations are defined. Additionally, positions for fire doors and fire shutters are agreed. Windows and large glazing take shape.
Air conditioning requirements are also coordinated at an early phase, and they have an impact on interior constructions and layouts: locations of large fan coil units may need be integrated as part of the room layout, smoke extraction grills are designed, and air inlet and outlet areas are integrated into the ceiling design. Different types of hoods and canopies may also be required above food preparation areas.
Other items coordinated at an early phase are stainless-steel catering furniture such as bar and buffet counters or waiter stations. In venues impacted by entertainment systems, items that need coordination with architectural design are, for example, theater rigging, large integrated LED screens, different kinds of platforms and stages which may have movable parts, as well as sound equipment or entertainment lighting. The outdoor spaces need special attention in coordinating designs in this phase as well. The windscreens or windbreakers are positioned based on wind studies. Large outdoor canvas ceilings or canopies may have special wind requirements that affect final designs. Finally, the architectural design of pools and whirlpools are to be coordinated considering technical requirements, such as pool geometry to prevent water overflow along with whirlpool machinery unit location and access points.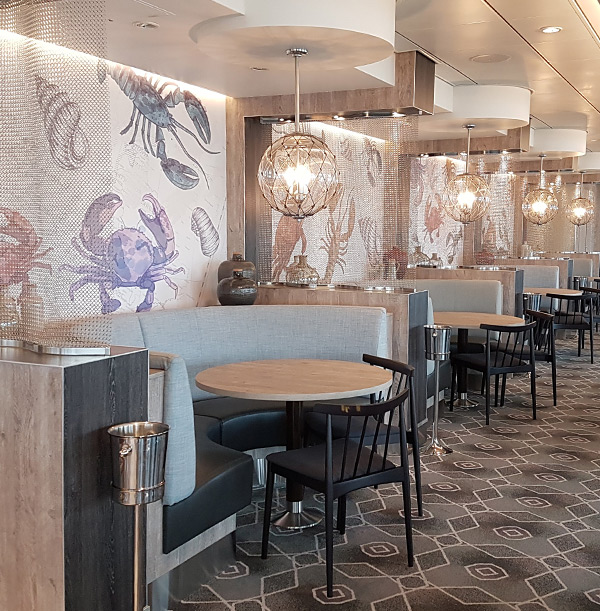 Final Architectural Design
After the buyer's final architectural design submittal is completed most of the aforementioned items will be reviewed in greater detail. Furthermore, we consider the scope of items supplied by the ship's buyer (such as artwork), division of different kinds of signs, and the number of colors and design repeats on carpets. Lighting is also considered as it can have an impact on the construction of some interior designs.
The final product of these massive projects is a culmination of a substantial amount of expertise from professionals across many disciplines. We are proud to be a part of the team. No one can do it alone; it is all about good relationships and collaboration.